Weather station in the north of North Holland since January 1st 1990
The interest in the weather was caused by the very harsh winter of 1962/1963. Large amounts of snow and ice have made an indelible impression on the then young observer. That infamous winter was somewhat later the coldest of the last century, with an average annual temperature of only 7.8 degrees in De Bilt. Nowadays an average year is almost eleven degrees and sometimes as in 2014 more than eleven degrees. That trend of high average and extremes in temperature was started at the beginning of this century with warm summers and mild winters
Every day a maximum, minimum and 10 cm temperature, wind, wind direction and many other meteorological data are measured by the weather station and stored in the computer. In the early years we used thermometers to measure the minimum and maximum temperature at 0.1 º C, accurate after November 2005, they were taken out of service. The air pressure is measured with a barograph, which writes a line on a table that is attached to a cylinder once again and makes a complete revolution once a week. The precipitation is measured with an official rain gauge type Hellmann, which can collect a large amount of 70mm per day. On August 21, 2005 the Davis Vantage pro2 weather station was taken into use, every 10 minutes data is sent to a computer and statistics are made of, among other things, temperature, humidity, atmospheric pressure, UV radiation, sun power, wind chill, heat index, rain, wind direction and wind speed. Most equipment is installed in the garden. The data that the station collects is sent all over the world, so that other organizations such as KNMI, Meteogroup, NOAA, Metoffice, VWK, Awekas, Weatherunderground and APRS WXNET can use this data. KNMI has already made grateful use of this data for a study into urban climate, UHI urban heat island effect.


Some station records
Highest maximum temperature: 36,0 °C op 27 juli 2018.
Lowest minimum temperature: -17,6 °C op 4 februari 2012, op 10cm -18.7
Wettest month: October 2000, 226,6mm.
Dryest month: April 2007, 0.0mm.
Highest daily sum on: August 11, 1994 63.2mm in 40 minutes.
Highest snow cover: 29 cm, March 2nd, 2005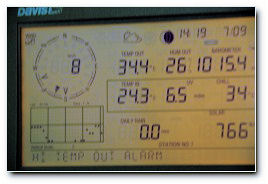 Vantage Pro2 Weather station van
Davis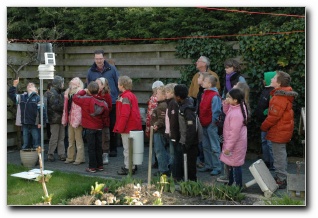 School class visiting
Every year, school classes visit the weather station in Tuitjenhorn. In addition to a nice glass of lemonade and a biscuit, the children expertly get an explanation from the weatherman of what is in the garden and what it is for. Of course there is plenty of opportunity to ask questions about the weather.

The most asked question is always: where does the thunderstorm come from?"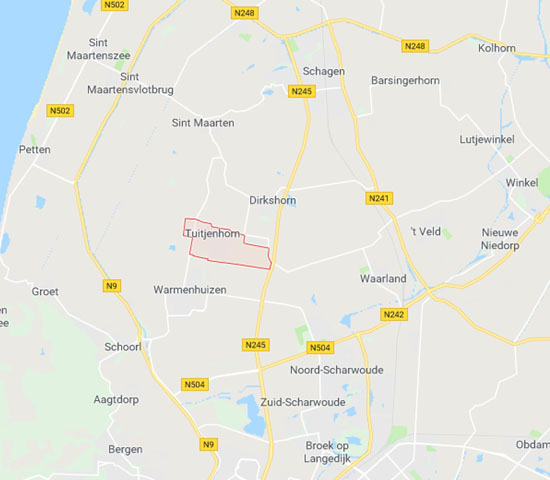 Tuitjenhorn
is located in the municipality of Harenkarspel, and is almost in the center of it. With a distance of 6 km to the North Holland coast you can speak of a maritime climate here. The old municipality Harenkarspel has 2 growth centers Tuitjenhorn and Warmenhuizen, approximately 70% of these villages are new buildings, that ar build after 1975. There are still homes built every year.
In 2001 a statue was placed in Tuitjenhorn of
Prof. Gerard Kuiper
, the well-known astronomer who was born here and later made many discoveries in America together with the astronomer Jan Oort about planets and stars. For example, the Kuiper Belt, a belt of many billions of comet-like objects consisting of stone and ice, has been named after him.